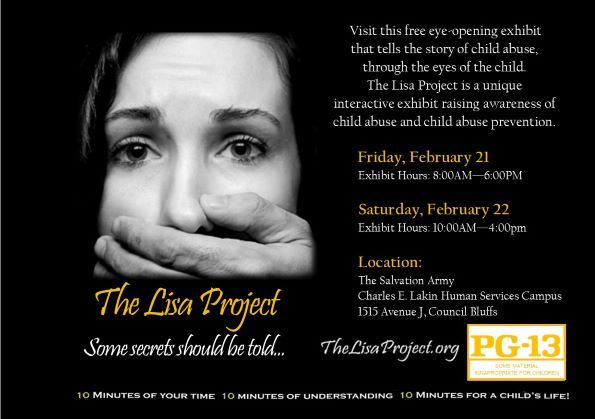 Some secrets should be told. Join us for this traveling multi-sensory exhibit that allows visitors to hear, see and experience the reality of child abuse.

Visit February 21 or 22 at the Charles E. Lakin Human Services Campus- Salvation Army, Council Bluffs.
Friday, February 21 Exhibit Hours: 8:00AM—6:00PM
Saturday, February 22 Exhibit Hours: 10:00AM—4:00PM
Through audio narration from a child's perspective visitors are guided room by room through scenarios depicting abuse. This experience is fully immersing each guest into the world that these children face on a daily basis.
The exhibit is rated PG-13 due to some mature content. Children under age 13 that come with guardians or parents will be allowed to walk through the exhibit but will not be given an audio device. The result of this experience is a community that is made more aware with positive and helpful steps given at the end of the tour to protect children and strengthen families.