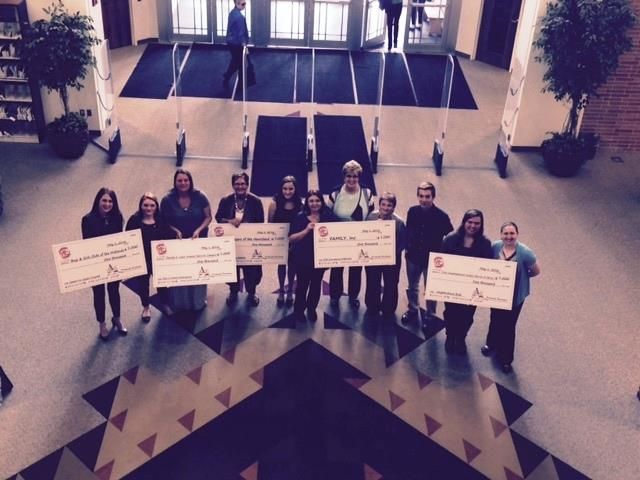 The Pottawattamie Youth Council is a youth led group in Pottawattamie County that seeks to help youth, children, & families in the area through service and philanthropy. We distribute approximately $38,000 annually to local organizations and groups after evaluating grant requests, learning about community needs, and participating in volunteer opportunities.
Five local organizations and community groups in Pottawattamie County are being awarded $5,000 in Community Networking Grant funding for projects and activities in the community. These projects create activities for children, expand networks, and aid youth in our area, resulting in lasting relationships between adults, youth, and children.
Community Networking Grant recipients were chosen by members of the Pottawattamie Youth Council. Funding is provided by the Iowa West Foundation and the Community Partnership for Protecting Children initiative. The following are the projects and organizations chosen for funding over the summer months:
• First Congregational United Church of Christ
The Annual Neighborhood Bash gathers dozens of local community agencies and groups into the downtown parking lot of First Congregational Church and Bayliss Park to provide a safe spot for community members to gather information about the support available to them. While networking with these resources, residents of the community will enjoy a free lunch, entertainment, a clothing giveaway, and various activities designed to involve children and their families. This 7th Annual Neighborhood Bash will be held in August and is anticipated to serve over 2,000 people.
• Trailblazers of the Heartland
Opportunities will be provided for families to practice key life skills while improving whole health through Trailblazer's GET FIT: Family Fitness, Freedom and Fun. Activities include a connection garden that supports healthy eating, an Independence Day Blast that includes fitness challenges, and a Back to School Splash that celebrates the exciting end of summer. Children and youth attending will have an opportunity to practice key life skills while organizing, facilitating and participating in interesting and exciting activities for our community.
• FAMILY, Inc.
This summer Family Inc. will celebrate 25 years of service in Pottawattamie County with participation in 2 events—the Celebrate CB Festivities and a 5K Family Fun Run. These free events for the public will be organized and carried out by Family's Parent Advisory Board and children who have graduated from the program. The Celebrate CB Parade and Children's Fair will be held in May and provide a means to increase awareness of programs and offer activities for children of all ages. The 5K Family Fun Run will begin with the Pancake Man and conclude with a free carnival in June.
• Boys & Girls Club of the Midlands
At the Boys & Girls Club of the Midlands, they aren't letting club members fall behind. Instead, they are seeing children thrive despite the odds against them. This summer the Boys & Girls Club is implementing the Readers to Leaders Program, a research-based reading intervention program that focuses on acceleration of learning and keeping kids from backsliding. Volunteers and community members will support young people in the program through daily reading practice and incentives. Through this program, young people will realize their full potential as productive, responsible, healthy and caring members of society.
• Charles E. Lakin Human Services Campus
The 9th Annual Back to School Extravaganza will be held at the Lakin Human Services Campus to provide students in the Council Bluffs area the opportunity to get basic school supplies needed for school. This event will be held in August and is anticipated to help between 600-700 students. Campus agencies including the American Red Cross, Boys & Girls Club, Heartland Family Service, Micah House, and Salvation Army will participate in the event. Other organizations and agencies will be available to provide information and resources to families in attendance.