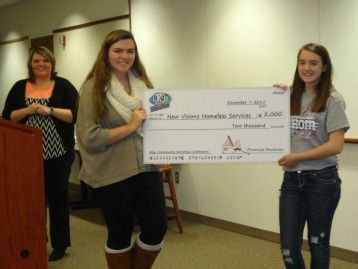 The Pottawattamie Youth Council (PYC), a program of Promise Partners—Pottawattamie County's Alliance for Youth announced that it is awarding $18,000 in grants to eleven local groups for projects and activities in the community that will bring neighbors closer together.
Since its inception in 2007, PYC has given away over $203,000 to local neighborhood-based groups, grass-roots community groups, and community based organizations to build stronger connections and sense of community.
Promise Partners Youth Development Director and PYC Advisor, Jessica Rayment says that the accomplishment is a group effort. "Without the hard work of PYC members, the contribution of the Iowa West Foundation and Iowa's Community Partnership for Protecting Children, and the local groups that are leading projects and activities, this support simply would not be possible," Rayment said.
Groups receiving grants include:
Optimist Club of Council Bluffs -- $1,000 to host fun and educational experiences for children attending the Boys & Girls Club.
Kanesville Alternative Learning Center -- $2,000 to support family meals, entertainment, and speakers for students, families, and the neighborhood.
New Visions Homeless Services -- $2,000 to support a community-wide Christmas celebration to provide holiday assistance to families in need.
Fifth Avenue United Methodist Church -- $890 to support family meal nights that include guest speakers on family issues, social skills, and safe home environments.
Lutheran Family Services of Nebraska -- $1,100 to provide a holiday gathering for the interaction of families that are expecting a baby or have a child under the age of five.
Trailblazers of the Heartland -- $2,000 to provide opportunities for youth and their families to participate in community based projects and "adventures".
Iowa Historical Foundation -- $2,000 to offer the Family Fun with Arts and History program for youth, families, and adults at the Western Historic Trails Center.
Youth & Families Committee -- $2,000 to support the Laundry Love Project, offering free loads of laundry, meal, and opportunities to connect with community resources.
FAMILY, Inc. -- $2,000 to assist families in learning about literacy and community supports at the 'Oh the Places You'll Go' event.
Treynor Community Schools -- $2,000 to host a multi-culture family-friendly event to promote peace and understanding of diversity.
Omaha Conservatory of Music -- $1,000 to support the String Sprouts music program to families that do not typically have access to long-term arts.