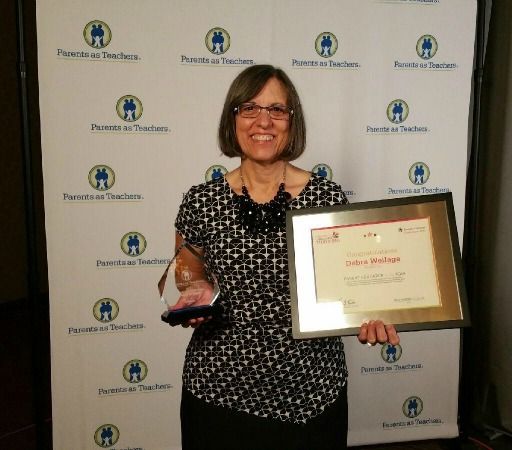 PARENTS AS TEACHERS HONORS DEB WEILAGE AT INTERNATIONAL CONFERENCE
Deb Weilage a local Parent Educator at FAMILY Inc. was honored Monday, November 9th at the 2015 Parents as Teachers Conference in Dallas, Texas for her designation as Parent Educator of the Year. Weilage along with four other parent educators from Colorado, Rhode Island, Texas, and Arizona accepted the award before 1,300 conference participants representing early childhood, child care, health, mental health, social services, government and business professionals from across the nation and around the world.
"The Parent Educator of the Year awards are intended to honor those individuals and affiliate programs whose practices exemplify the mission of Parents as Teachers," says Jean Bohnker, Supervisor of Home Visitation. "This is such an honor to our program, community and state. No one is more deserving of the award than Deb."
"Deb exemplifies every quality that you would want to see in a parent educator. She is kind, compassionate, knowledgeable and skilled. We are very fortunate to have her servicing families in Iowa," commented Janet Horras, State Home Visitation Director.
Since 1991, FAMILY Inc. has been supporting more than 1,200 area families and completed over 35,000 home visits through Parents as Teachers. The program provides parenting information and support to local families throughout pregnancy until their child enters kindergarten. "Deb is a true advocate for families and children. With 30 years of experience in the education field, she helps her parents by providing the information support and encouragement they need to help their children develop optimally during the crucial early years of life," states Sarena Dacus, FAMILY, Inc. Executive Director. "Her families consider her their champion as she helps them win many battles and overcome obstacles. Deb is there for her families whether it means teaching them to swaddle their newborn, explaining developmental milestones, connecting them to resources, or helping them transition to school."
In Deb's 8 years as a Parent Educator at FAMILY Inc. she has enrolled 59 families and has provided 3,445 home visits. Her commitment to ensuring the best possible outcomes for all families and children is evident in her daily actions. Deb truly embodies the vision of Parents as Teachers as she dedicates her life's work to giving parents the tools they need to be their child's first and most influential teacher.
"I am very proud to receive this award on behalf of the families who have opened their doors to me and have let me share in their lives," expressed Deb Weilage.
The local Parents as Teachers program operated by FAMILY Inc. receives funding from Promise Partners serving as the Early Childhood Iowa board for Pottawattamie County.
About Parents as Teachers
Founded in Missouri in 1984, Parents as Teachers serves nearly 250,000 families in all 50 U.S. states, more than 100 Tribal organizations, schools and communities, and six other countries. Its internationally recognized network of affiliates uses an evidence-based model to deliver parent education primarily through personal visits and group meetings, equipping parents with knowledge and resources to prepare their children, from birth through kindergarten, for a stronger start in life and greater success in school. Parents as Teachers programs operate in various settings, including schools, hospitals, faith-based organizations and housing communities. For more information, visit www.ParentsAsTeachers.org.