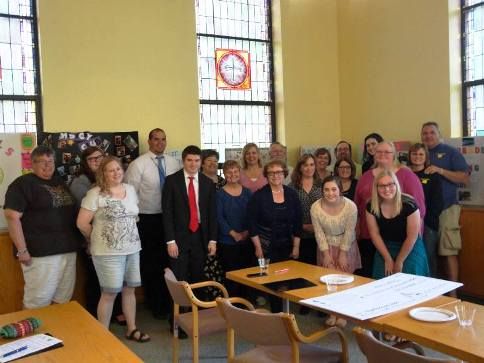 Eleven local organizations and community groups in Pottawattamie County are being awarded $18,000 in Community Networking Grant funding for projects and activities in the community. These projects create activities for children, expand networks, and aid youth in our area, resulting in lasting relationships between adults, youth, and children.
Community Networking Grant recipients were chosen by members of the Pottawattamie Youth Council. Funding is provided by the Iowa West Foundation and the Community Partnership for Protecting Children initiative.
• STARS Scholarship Program:
Through the Zoo-rific! project, the STARS Scholarship Program will create an opportunity for non-traditional students and their families to enjoy one of the area's greatest natural resources, the Henry Doorly Zoo. This project will allow families to discover community supports and build relationships by providing a day at the zoo and an opportunity to create a work of art together that will then be put on display at the Council Bluffs Public Library. Additionally, a photographer will capture these memories, and each family will receive a year-long zoo pass that allows the families to enjoy the zoo again and again.
• Trailblazers of the Heartland:
Trailblazers will use this grant to help put on GET FIT - Family Fitness, Freedom and Fun. Trailblazers will be leading this joint effort along with other community partners in order to provide community based service projects and education for families. This program will kick-off with their Independence Day Blast, and will provide a variety of events for several weeks such as a healthy eating initiative through a community garden, a fitness challenge, and a back to school bash. The youth attending will have an opportunity to practice key life skills while organizing, facilitating and participating in interesting and exciting activities for our community.
• Pottawattamie Conservation Foundation:
Botna Bend Park Community Outreach encourages family-oriented fun, outdoor activities, programs and crafts to encourage outdoor exploration and personal interaction. The purpose of the project is to provide families in the community with fun and safe activities while allowing them to create connections with the community and their natural surroundings. There are 3 components to the project: Under the Stars Family Movie Nights, Saturday Morning Camp Programs, and Camp Safety.
•Southwest Iowa Leadership Academy:
The Southwest Iowa Leadership Academy will be providing a four-day residential camp to build leadership skills in middle school students in the county. Students will attend workshops dealing with important issues involving adolescents, and will also have an opportunity to participate in a service learning project during the week. This academy has been active for twenty-five years and has hosted a handful of PYC students. Each year, the curriculum is revamped to meet the emerging needs of youth with regard to leadership and social challenges.
•Treynor Outreach:
This volunteer-based community group will be offering a pilot program of twelve community garden plots to feed interest in a self-sustaining multi-year project for the Treynor community. Treynor Outreach believes that family time together in the garden can allow better communications and generational understanding. Each family member is part of the family team that brings their garden plot to "fruition".
• Bluffs Arts Council:
The Bluffs Arts Council will be using Community Networking Grant funding to help provide Black Squirrel Summer Arts Camps – 3, 4, and 5-day camps immersed in the arts for students ages 7 to 12. The purpose of this project is to offer opportunities for exposure to different types of the arts in order to help enhance and enrich existing school art curriculum. This will be the ninth year that the Bluffs Arts Council will be providing this opportunity for young people in our community.
• Lighthouse Temple Open Bible Church:
With their project, Fun in the Sun - Memories Last a Lifetime, Lighthouse Temple Open Bible Church will be providing a summer of fun outdoor activities designed to bring adults, youth, and children together, enriching their lives by creating lasting memories. Monthly activities include: a zoo trip and scavenger hunt, baseball, swimming, fishing, and dinner and a movie. A photographer, and the families themselves, will help to capture these memories together by taking pictures throughout the project.
• Trinity Lutheran Church:
The youth group of Trinity Lutheran Church plans to use these grant funds in order to provide fun activities for all ages in the Avoca and surrounding areas, including: Hancock, Walnut, and Shelby, while at the same time, providing an answer to the needs of the people in their communities. These activities will span between June and August and include: a community clothing give away, carnival, an Amazing Race Scavenger Hunt, an outdoor movie, and much more! These activities will encourage interaction between families and members of the community by spending time together.
• First Congregational, United Church of Christ:
First Congregational's annual Neighborhood Bash gathers dozens of local community agencies and groups downtown next to Bayliss Park to provide a safe spot for residents to gather information about the support available to them. While networking with these resources, neighbors from the community also enjoy a free lunch, uplifting music, free clothing, and various activities designed to involve children and their families.
• Nishna Heritage Museum & Riverside Links:
In order to provide more cultural experiences for Riverside youth, art students will plan and implement a series of art workshops. Participants will create art and gain an appreciation for the Riverside community's culture. These workshops will be held at venues important to the heritage of the region – the Heritage Garden next to Oakland's museum, the County Fair, the Carson Rodeo, and Donia Days. As children expand their circle of adult support through these events, they are more likely to find trusted mentors in their community.
• Walnut Young Adults:
It is the goal of Walnut Young Adults to be a source for residents within the ages of 18 and 40 to engage and contribute to the Walnut community. Through the community garden project, these group volunteers will build a gardening site that all residents can utilize without the inconvenience of maintenance and excess cost. Residents will be able to come together to grow healthy food and flowers while sharing gardening techniques and recipes. Through this experience, neighbors will be able to bond over a common goal, and friends and families will benefit from time spent together.