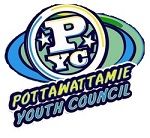 The Pottawattamie Youth Council (PYC) welcomed 15 new members to participate during the 2014-2015 year. This youth led group, consisting of 25 members from throughout Pottawattamie County, seeks to help youth, children and families in the area through service and philanthropy.
Membership is open to local high school students. Each had to apply May. An orientation was held in September in Neola to help members learn about philanthropy, grant making, service to others, leadership dynamics, and group work.
"We are very lucky to have such a great group of young people who want to do something that benefits our community. I want to tell others what a fine group of young people we have with a strong desire to serve the community. That's impressive," Jessica Rayment said.
The group will meet one to two times monthly throughout the year to learn about community needs/assets, develop leadership skills, lead service opportunities, and participate in philanthropy efforts. Members will grant funds twice yearly to neighborhood-based groups (formal and informal), grass-roots community groups, community based organizations and ad hoc groups for community-driven projects that enhance and strengthen neighborhoods.
Below is a list of members. (* indicates Team Lead)
Emily Hack*, Underwood Community
Molly Wirtz*, St. Albert Catholic
Grant Mantell*, Treynor Community
Derek Ravlin*, Underwood Community
Krystal Phillips*, Tri-Center Community
Nicole Hilderbrand, St. Albert Catholic
Cody Rupp, Abraham Lincoln
Caitlynn Chapman, Thomas Jefferson
Mattison Munger, St. Albert Catholic
Kendrick Umphreys, Treynor Community
Caye Schnackel, Abraham Lincoln
Caroline Faust, St. Albert Catholic
Olivia Curtis, Underwood Community
Sarah Ehlers, AHST Community
Sara Braymen, Lewis Central
Alexis Redshaw, Underwood Community
Drew Carlson, St. Albert Catholic
Mary Nagengast, AHST Community
Kaitlyn Murphy, Abraham Lincoln
Courtney Allen, Treynor Community
Mary Casson, St. Albert Catholic
Cydney Anderson, AHST Community
Melanie McCollough, Underwood Community
Abby Ross, Thomas Jefferson
Anne Nagengast, AHST Community