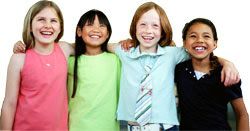 Imagine you are ten years old, and one day you are told you are going to live with a foster family you have never met. You may have to change schools and be separated from your friends. If a family isn't available to take both you and your siblings, you might be sent to live miles apart. You probably feel confused and even scared.
In a recent one-year period, Iowa KidsNet received more than 2,400 referrals of children into foster care, including more than 160 in Pottawattamie County. Children enter foster care through no fault of their own, but often because of circumstances of abuse or neglect. A foster family provides a temporary safe, structured and loving home until a child can either be reunified safely with his or her birth family or find a new permanent home through adoption. Unfortunately, each year many teens turn 18 and age out of foster care without having a connection to a permanent family.
Iowa KidsNet is a statewide collaboration of agencies that recruit, train, license and support Iowa families to foster and adopt Iowa children. Iowa has a great support system for foster and adoptive families, as well as ongoing training and peer support.
Pottawattamie County has an urgent need for more foster families. There are many ways to get involved. Find out how you ca make a difference and explore foster care and adoption at www.iowakidsnet.com