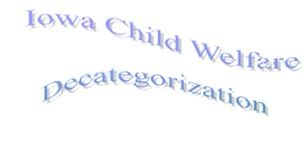 The Child Welfare Decategorization Program was authorized by the Iowa General Assembly in 1987 as an initiative designed to deliver more effective service to children and families. Decategorization is intended to help communities achieve a system in which services are driven by client strengths and needs, rather than by the diverse eligibility requirements and service definitions of categorical programs and funding streams. Goals for the decategorization program include:
tailoring services to the individual needs of children and families;
redirecting funding toward preventive, family, neighborhood and community based services;
reducing reliance on out-of-home and out-of-community placements;
promoting community planning, collaboration, and governance of service systems; and
developing service systems that more accurately reflect the needs of the children and families within the communities served.
Counties approved for decategorization are expected to establish goals, objectives and outcomes consistent with the legislative and statutory mandates for the program. In Decategorization, state and local officials work together to overcome barriers and develop more effective services for children and families.