Community Partnerships for Protecting Children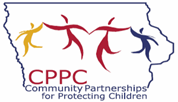 Community Partnership for Protecting Children is an effort to promote community-oriented child welfare policies and practice. These partnerships seek to change the way communities think about how to protect children and to reform our nation's child welfare system.
The community partnership approach starts from the premise that no single factor is responsible for child abuse and neglect, thus no one public agency can safeguard children. Children's safety depends on strong families, and strong families depend on good connections with other families, local organizations, and community institutions.
The principles underlying the community partnership approach include:
Families are stronger when all members, including parents and caregivers, are safe from abuse
There is no substitute for strong families to ensure that children and youth grow up to be capable adults
Families do best when they live in supportive communities
Children do best when families, friends, residents and organizations work together as partners
Children should stay with their own families whenever possible
Services and supports need to be available earlier, before crises occur and must be closely linked to the communities in which families live
Government alone, through the public child protective services agency, cannot keep children safe from abuse and neglect
Efforts to reduce abuse and neglect must be closely linked to broader community initiatives and priorities
All families should receive high-quality services with no disparities among racial, ethnic, religious, or socioeconomic groups
Each community must shape the strategies and network of services based on its own resources, needs and cultures
---